Book Now! Save 20% off!
Don´t miss out on planning your future travels now with this Advance Purchase Offer. Book today through October 31 and get 20% off for your accommodations starting June 11 through December 28. Rate includes the following free amenites,breakfast, free wifi internet. 10% Service Charge is not included in rate.Peruvians, residents and some non residents are subjected to 18% sales tax. Check in: 3.00 pm /Check out: Noon Discount already reflected on rate. Would like to let you know we have been Certified by Berau Veritas and have a Stay Safe Seal
Offer valid between 24/09/2021 and the 28/12/2021
From:
$72
taxes not included.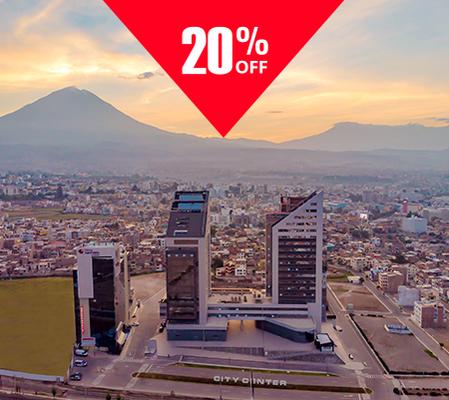 Other offers in
Sonesta Hotel Arequipa
subtitle_offers_capricornus
description_offers_capricornus
Advance Purchase! Save 20% off

Don´t miss this Early Bird Offer! Book now! If you book today until September 23 you will get 20% off for you accommodations starting on Sept 16-April 30 2022 Rate includes the following free amenites,breakfast, free wifi internet. We are also offering free late check out until 3.00 pm (according to availability)

10% Service Charge is not included in rate.Peruvians, residents and some non residents are subjected to 18% sales tax. Check in: 3.00 pm /Check out: Noon Discount already reflected on rate. Would like to let you know we have been Certified by Berau Veritas and have a Stay Safe Seal

$72

More info